The Ultimate Guide to Building Your Multi-Million Dollar Wealth Management Practice.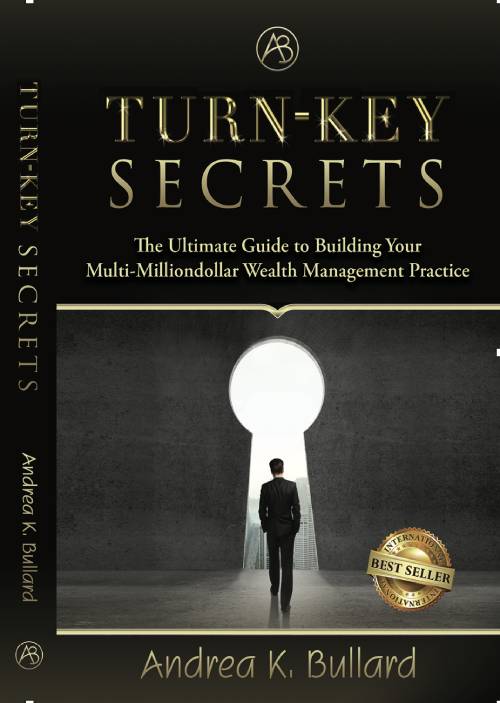 In Turn-Key Secrets, the author Andrea Bullard divulges the 4 essential Pillars to building a multi-million dollar Wealth Management practice. She shares strategies to substantially reduce work hours and related stress and at the same time significantly increase net income.
The difference between success and failure of a Wealth Management firm can be distilled down to the effectiveness of the business model. Andrea will reveal why certain business models are more stressful and at the same time less effective while others will enable you to earn more in far less time. Andrea has an extensive track record of helping thousands of Financial Advisors work smarter.
One of her innovations is how to create a Prospecting Concierge Team that generates prospects while providing high level customer service. In Turn-Key Secrets Andrea brings to light the significant elements of a business Vision; building your "A" team; the Turn-Key Systems that provide repeatable business processes; and how to provide inspirational leadership to increase productivity and create ownership of the team goals.
In sum, Turn-Key Secrets is a must-read for every Wealth Manager that aspires to transform their practice into a multi-million dollar enterprise while delivering concierge service to each and every client.

THE TURN-KEY OFFICE SYSTEM©
The Vital Success Secrets That Every Top Producer MUST Know…
Your Key to More Profit with Less Stress Lies Within the Turn-Key Office System©
Andrea Bullard understands that the best businesses in the world need to have the best office systems. Based on more than 20 years of experience helping top producers to generate multiple six and seven figure incomes, she created The Turn-Key Office System©, a formula specifically designed to help financial representatives in the insurance and investment industry to escape the money wasting time-traps in their business, enjoy more income and free time, and elevate to the next level of success.
This straight talking 'how to' book spills the beans on everything from foolproof systems for filing, to proven systems for hiring the RIGHT staff to support you when and where you need it most.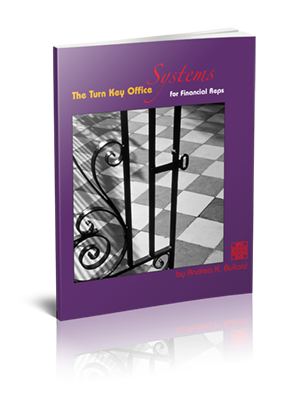 Simplify your office, and change your life for the better!

THE 'REFERRAL SKILL SYSTEM' BOOK
Every financial rep in the insurance and investment industry knows that referrals are the lifeblood of a thriving business BUT only a few knew how maximize every opportunity to double or even triple the amount of business you win through referrals… until Now!
This book details Andrea Bullard's own complete referral system, the same one she's used to fuel a 20 year high-profile career in the industry on word-of-mouth alone!
BEING REVISED...NEW REVISION TO BE RELEASED IN SUMMER OF 2022
Please accept our apology but this book is currently being revised and cannot be purchased.  Please click the link below to go on a list to be notified when the revised book comes out:
Start using these insider secrets to grow your business the fast and trusted way.

WOMAN POWER: STRATEGIES FOR FEMALE LEADERS
A must-read for every aspiring or current female leader!
Written with an international perspective by coaches, consultants and leadership experts from the U.K., Iran, Switzerland, Italy, Austria, Singapore, and the U.S.A. including Karen Mertes, Andrea Bullard, Janice Riley, Dr. Fariba Parsa, Dr. Mariarose Nava, Victoria Koster-Lenhardt, Donna J. Spina, Ilene Fisher, Elisabetta Franzoso, Rita Rocker, Julie Jakopic, Dr. Catherine Barnes, Rebecca McCord, Valerie Dwyer, Janice Simpson, and Cheryl Watts.
Topics include the power of emotional intelligence, authentic leadership skills, business communication, risk-taking and navigating your career, commanding your destiny, and more! The global perspective within this powerful book will empower women internationally on many levels of leadership both personal and professional.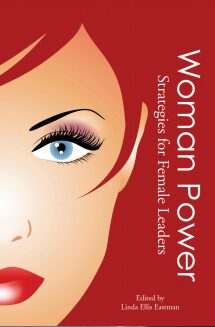 Join me and learn how to PLAY TO WIN.
Let me help you live your DREAM LIFE!